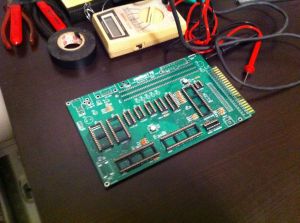 One of the last things I did before we moved back to Canada was order a Replica One computer. The Replica One is a reproduction of the original Apple I computer designed by Steve Wozniak back in 1976. Shipping it to Canada would have been more expensive and more of a hassle and I always wanted one so I bought the kit. But with the move, I left everything in the box until I was ready to work on it.
Once we were settled, I was itching to start but I just didn't have the room. I had my own room for my gadgets but I only had a tiny desk which had room for our iMac and printer but not much else. I really needed all new office furniture and a large desk to go with the large room.
By September, I had found the furniture collection I wanted and ordered it online. But months later, it was still back ordered. Someone didn't want me to work on my computer project.
By November everything arrived and in a couple of evenings of work, I had the furniture all assembled. With desk space, I decided to bring out some of my other old hardware. Like the Apple //GS I used throughout university and have completely customized in a tall tower case. Or my uncles old Apple //e which needed a bit of cleaning but still works great. My BeBox which replaced my Apple //GS as my main computer when I started working life. The BeBox is probably the rarest machine I own and the model I have is thought to be one of about 800 ever sold.
But, while waiting for room to work on my project, I also started collecting some other old systems. I found an original Mac 128k on eBay and bought it. I have a video of Samantha using it in the kitchen. Now it has a permanent spot next to our iMac which is many orders of magnitude faster. It works well and Samantha often asks to use it. She loves MacPaint.
I also got a Apple MessagePad 2000 on eBay. These devices are often called "Newtons" although it is the software on them that is branded Newton. The hardware is MessagePad. It is a strange device and ahead of its time in many ways. The Palm Pilot which followed it is definitely a refinement and simplification of the MessagePad and it succeeded because it was a better compromise for size, battery life and cost. But it is a pretty neat machine and in some ways is a predecessor of the much more successful iPod and iPhone mobile devices which Apple would make much later.
The final machine I bought off eBay recently was an Apple Lisa 2. This is quite a rare machine and is a predecessor of the Mac and is one of the first machines with a graphical user interface. The model I have has a single 400k floppy drive and a 10M internal hard drive. The hard drive is physically huge. Given that 3TB hard drives exist today, you can probably have about 12TB of disk space in the same physical dimensions as this 10M drive. That is about 1,250,000x more capacity in the same physical space. The machine itself was in Ottawa so I was able to inspect it before bidding on it and once I had won it, I didn't have to pay shipping costs since I just had to pick it up. It was missing a keyboard but I found one in another auction. The system does power up but it doesn't boot. There is definitely an error booting to the hard drive but I am not sure what the problem is yet. It could be that the OS isn't loaded on the hard drive which means I have to find some way to write some floppies. That alone will be an interesting challenge.
The only other machine I am tempted to try to find is a Next Cube but they are rare enough that they tend to go for $1000 or more. I just can't justify that much money for something that old, regardless of how cool the hardware is (or was).
But what I really wanted to work on was the Replica One. I setup the desk and put some of my old machines together in the corner of the L where I could work with them but they also wouldn't be in the way too much. The iMac sat on on end of the L leaving the other side empty. Also before moving, I bought a very good soldering iron at Fry's so I set that up. I put a nice bright desk lamp there also to help me get enough light.
I was bit nervous to start since it had been years since I did any soldering and never really did anything this intricate. I watched a bunch of YouTube videos on soldering technique just to review and prepare. One night a couple of weeks ago, I opened up the box and organized all of the parts. The instructions suggested starting with the resistors and there were only a dozen or so to mount so I dove in.
In a short time, I had all of the resistors mounted. The next day, I soldered all of the sockets. Then, the capacitors. A day or so later I was soldering on the connectors and other devices. Every day, I would show Matthew the progress and demonstrated soldering for him. But once all of the soldering was done, Matthew would help me out more.
First, we needed to make sure that the connections were good. Without inserting any chips into the sockets, I hooked the board up to the power supply and turned it on. We got a red light from the LED which was a good sign. Using the voltmeter, Matthew and I checked +5 and ground on all of the key pins. Everything looked good. Time to power it off and move to the next step.
With bedtime fast approaching, we started mounting the chips into their sockets. There were only 10 chips to insert (versus the dozens of chips found on the original Apple 1) but it was slow going because we didn't want to bend any pins. With all of the chips mounted and Cynthia ready with the video camera, it was time to power it up. And it worked! A quick reset and I was in the monitor. A quick instruction in the monitor and I was in Apple basic. A quick command in Apple basic and I was running a program. We had built a computer!
In many ways, this project was a way to relive the building of the Rand X computer my dad I built nearly thirty years ago. The Replica One is actually less powerful than the Rand X. My Replica One has 32k of memory versus the 64k we had in the Rand X. But my Replica One is also built to interface better with technologies of today. It has a PS/2 port for a standard PC keyboard. It has a serial port which you can use to send it programs. I am currently waiting for a USB to serial cable so I can hook the iMac up to the Replica One and downloads some programs to it.
And I bought a compact flash reader for the Replica One. This lets me store programs on a compact flash card. The Apple 1 never had a disk drive. All it supported for storage was cassette tape. Compact flash is a much more convenient solution. However, it was difficult finding a good flash card to buy. The problem is that regardless of the size of the flash memory, the reader will only give you access to the first 32M of space. In the store, the smallest and cheapest I could find was 4G. So, I now have a 4G compact flash card inserted into a device with 32k of main memory. Of that 4G, I can use only 128th of it and of that 128th, I will be hard pressed to use even a megabyte of space.
Matthew has shown some interest in learning more about the Replica One also. I showed him just a bit of Basic and how he could use it to write programs which can do his math homework for him. That seemed to get his attention. I often wonder what the best route is to get a child into programming today. Making a program which counts from 1 to 100 on today's machines just seems so anti-climatic. But to get a machine which is nothing more than a bare circuit board hooked up to a keyboard and monitor to count to 100 just seems like more of an accomplishment. At least I think so. We will see whether Matthew thinks so too.
The next step is to build a case for it. Today it is sitting on a piece of cardboard but my plan is to build something out of plexiglass. I also need to find a keyboard which is a bit smaller and more appropriate to mount into the case.
So my Replica One joins my museum of old technology. But unlike the other ones, this one is just a bit more unique because we assembled it ourselves.