Monthly Archives:
November 2014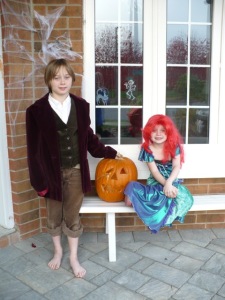 Here is a picture of Matthew and Samantha a couple hours before going out to do some "trick or treating" this year.  Matthew is dressed as a hobbit.  Cynthia tried to curl his hair to more closely match the hair of the hobbits from the movies but it just didn't work.  His hair is straight and is going to stay straight it seems.  Samantha is dressed as princess Ariel from The Little Mermaid.
The pumpkin came out pretty good this year also.  There was a diagonal ridge on one side which we thought looked good as a scar.  So, we made it look like our pumpkin lost his right eye in some kind of accident leaving an odd hole and the diagonal scar.
The weather cooperated.  It was about as cold an evening as we have had this fall but it didn't rain on us or worse – snow.  Samantha went around our block for the first time.  In the past, she would give up before completing the circuit but she made it this time.  Matthew scoured the neighbourhood and brought home two large bags of candy.
And we seemed to have fewer kids come to our door.  We have ran out of candy the last couple of years so we had more than ever.  I think we have candy enough for Halloween 2015 and then some.