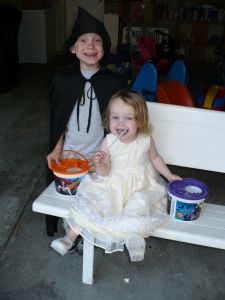 Just before Halloween this year, we let Matthew watch the first Harry Potter movie. With that influence, he decided he wanted to be a Wizard but Matthew wanted a lightning scar on his cheek and not his forehead. We had a bunch of different costumes for Samantha like a dog or an elephant but she wanted to be a princess. She decided she wanted to wear the dress from Uncle Steve's wedding and be a princess.
But, before all of that, we had to carve our pumpkins. We got a couple of small pumpkins which we all worked on a bit. After some discussion of how to carve them, we decided on a spider and a scary face.
With the pumpkins carved, it was still early so we let the kids play outside a bit in their costumes before going door to door. Before long it was time and we left a plate of goodies behind at the front door to do some trick or treating. Once it got quite dark, Samantha was pretty tired so she and I went home while Cynthia and Matthew visited some more homes with some neighbourhood friends.
This was our first Halloween here. Last year, we moved out of our house in Dunrobin on Halloween. We found there were a significant number of homes which were not answering their door, more than we ever remember back in Ottawa.
We still have some candy around the house which we have hidden away for Samantha if she needs something. But, the kids had a great time that night, candy or no.