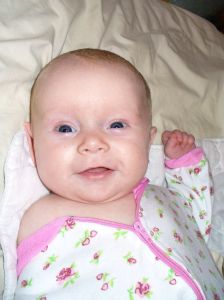 November has been a great month for Samantha. She went to the doctor for a check up about two weeks ago and everything is just fine. At the time, she weighted 9 pounds 14 ounces. Just today, Cynthia took her to a weekly "Well Baby" event and she weighed 10 pounds 10 ounces. Of course, there was another baby there who was 3 days younger and 3 pounds heavier. Just like Matthew, she is smaller than average but growing and progressing well.

The pictures linked here are mostly of Samantha but there are a couple of others of Matthew and the rest of the family. As the pictures show, she is starting to smile a bunch. She still has a great disposition and is very patient when she is hungry. The feedings are still averaging about every 3 to 3.5 hours but every once in a while she will go 4 or 5 hours in a stretch. We are getting a bit more sleep though.
She is enjoying her gym a fair bit also. The pictures show her sleeping in it but that was after playing for a while. She kicks and grabs for the toys hanging over her. So, when she isn't sleeping, she really likes to play in the gym.