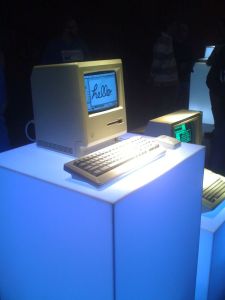 Since Apple announced the ability to write your own applications for the iPhone, I have been working on different things. I even have an app up on the store right now (see www.halcyontouch.com for more details). Every year, Apple holds a developer conference in San Francisco and I hoped to attend before we moved back. Sure enough, when the dates were announced, it was a couple weeks before our move so I bought myself a pass.
Everyday, I caught a Caltrain at 7:13 AM which is a bit early for me. And I often wouldn't be back home until 10:00 or later after attending different parties in the evening. I was there for the announcement of the iPhone 4 but more important were the technical sessions and the labs. At the labs, I could show my app to an Apple engineer and get assistance on something I was having trouble with. Sometimes I learned I was doing this correctly but often I would leave with a longer list of things to improve.
The different evening events were great. On Tuesday night, there was a "Stump The Experts" event where the audience and about 20 Apple employees tried to out do each other with arcane technical and Apple history trivia.
Wednesday night, I got to see and touch some of that Apple history. At this party, they had several old machines like a Lisa, a Macintosh 512 and even an Apple I owned by Apple employee number 16 who was there to demo it. I snapped a bunch of pictures and chatted with people about what machines the we had used. I told several people that I had bought an Apple I replica kit so soon I would assemble my own reproduction of history.
Thursday night was the big party put on by Apple. It was pretty crazy. I met several people like Bill Atkinson who are as close as it comes to celebrities in the Apple community. Later, Ok Go came out to perform. Unfortunately, I couldn't stay to the end but I had a train to catch and by then, the weeks activities had me pretty exhausted.
It was pretty expensive but doing it after our move back to Ottawa would have costed much more. It was a great chance to learn more about my iPhone development hobby and indulge my love of all things Apple.