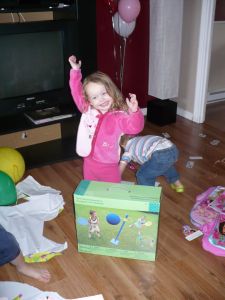 Samantha had her third birthday a little while ago. We threw a birthday party for her at Samantha's best friend's house. We played with their cat who seemed to enjoy sitting in gift bags. We had a Dora piñata but instead of hitting it, you were supposed to pull on a string to open it up so the goodies could fall out. After breaking a piece of trim off the doorway where we had tied it, Cynthia realized that she overstuffed it and nothing was going to come out. Matthew came to the rescue and used some of his karate moves to break it open. Instead of cake, we had cupcakes laid out to form the number 3. Samantha had a great time and we stayed late visiting with good friends.
But that happened several days before her actual birthday. On her actual birthday, the four of us went out to dinner at East Side Marios. After dinner, they brought ice cream cones with a sparkler in it with several staff singing a birthday wish. Samantha was a bit overwhelmed but loved it. With dinner done, we gathered on our bed where Samantha opened gifts from and cards from family. We have some video of that.
Thanks everyone for your birthday wishes.