Samantha had a great time this past year in a ballet class. She attended weekly classes and was working towards a big dance recital at the end of the term. Before the recital, they did a dress rehearsal and parents were allows to attended the rehearsal and record the show. You can see some of that footage in the movie.
After the rehearsal, Samantha had two performances at Centrepoint Theatre. We got tickets for the first evening so we got the chance to watch most of the show. Samantha was enthralled with the music and dancing and thankfully there was enough room in the aisle for her to dance along. A couple of numbers before her performance, we escorted her backstage and then quickly returned to our seats to watch. She did really well and only fell down once.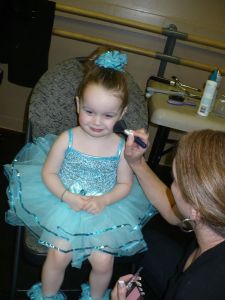 After her number, we picked her up from backstage and watched the rest of the show. Even though it finished up very late at night, she was still so excited to watch all of the dancers and loved the music.
The next day, she performed again. We didn't have tickets that night so we waited backstage while she performed and then went home afterwards. Unfortunately we don't have any footage of the actual performance yet because we weren't allowed to take pictures or video but we are supposed to get a DVD of all acts soon. So, perhaps I can include a better quality video of her dancing soon.
Samantha is going to do ballet again this year and she is also keen on tap dancing also. So she may end up in two performances in next years recital.