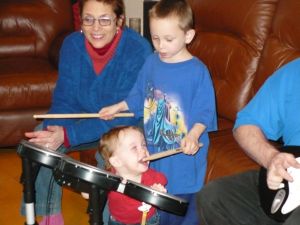 Jumping Jack Grandma arrived a bit later than planned because of the bad weather back in Ottawa (something we don't miss), but she was just in time to celebrate Christmas with us. On Christmas Eve, we continue some traditions from my parents. We open a game for the family to play on Christmas Eve and we don't make a big and fancy meal. Instead, we just eat lots of finger foods, especially seafood.
So, we continued that tradition but decided not to get a board game. Instead, we picked up Rock Band 2. If you know Guitar Hero, it is a similar idea except you can sing and play drums also. If you aren't aware of either, it takes a bit of explanation. Basically, it is a video game which comes with drums, a fake guitar and a microphone. The disc has piles of songs on it and you can buy more from their store. Depending on how many people you have to play, you can have a couple of guitars (a lead and a bass line), a drummer and a singer "performing" these songs.
For a singer, it is kind of like karaoke but the game is evaluating how you are doing and whether you are in tune. The better you sing, the more points you get. The drummer has to hit four coloured drum pads at the right time according to what is displayed on the screen and approximates a real drum line. There is even a bass pedal to hit. The guitars have coloured buttons on the neck which you have to hit in time with the music.
We started with Jumping Jack Grandma on the drum, I played guitar and Cynthia was singing. At one point, Cynthia was singing some Metallica and I had a hard time continuing because I was laughing a bit too hard. It was pretty funny hearing her try to sing these angry lyrics. Matthew also got a chance to play the drums. Samantha is too young for it but she seemed to enjoy watching us did try to help Matthew with the drums a bit.
Cynthia and I mostly play it after the kids go to bed now for a few minutes. It is a great game and a lot of fun. This coming weekend, we have a family coming for dinner and we may break out the instruments. It is a fun game for parties.
After some time playing our new game, it was starting to get late and the kids had to get in bed before Santa came. If you look at the pictures, you can see some shots Santa must have taken after he dropped off the presents. You can see the Samantha's play kitchen and there is a Star Wars walker toy in the picture of the tree for Matthew. The bike was actually from Cynthia and I, not Santa. Soon enough, the kids would be awake and enjoying their new toys.