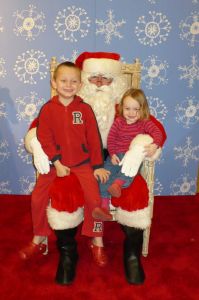 This Christmas, we had a pretty quiet holiday in California. After Matthew's birthday, we went to a local nursery to pick up a Christmas tree. Just like last year, I put the tree in the hatch back of Cynthia's car. It really is incredible how well it fit. Once we got the tree to the house, the kids played in the front yard while I prepared it to come in the house.
Once inside, we started decorating. This is the first year that Samantha really helped with the tree. Although she often removed a bunch of decorations, she put many of them on for us. Matthew put the star on the top and he was most distressed when Samantha would decide that something looked better in her hand than on the tree. With the tree decorated, we played Christmas music until bed time and the kids danced and played while we relaxed.
I worked on Christmas Eve but snuck out early to join everyone for a quiet evening. We had some friends over and enjoyed a simple meal. I made a shrimp rice meal along with some mussels and some crab. The kids mostly ate chicken nuggets but some ventured to try the seafood.
Sure enough, after we went to sleep, Santa visited and brought some gifts for Matthew and Samantha. Matthew got a Star Wars tank vehicle and Samantha was so excited to see a bike by the tree. Uncle Steve sent a remote control car for Matthew which he loves and was playing with again just a couple of days ago. In the afternoon, we enjoyed some movies from Grandma Heather and Poppa, including Up! which was great. Of course, we had to take a break so Matthew could drive his new RC car while Samantha rode her bike along the sidewalk.
One of the gifts we gave Matthew was a junior paleontologist kit that had a bunch of tools and some pretend mammoth bones encased in some plaster. He worked carefully on it for a while but somehow we ended up missing a couple of pieces. But, he had a great time extracting the bones and cleaning them.
I took the week off between Christmas and New Year and we did some more tourist-y things around the area. We went to the Exploratorium in San Francisco which the kids loved. It was a great holiday and Samantha still says "more presents" from time to time.