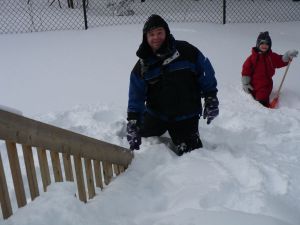 We got some snow this winter. And then we got some more, and a bit more. The picture shows that the snow got nearly as high as the bannister of the steps down from our back deck which has to be about three feet off the ground. The other pictures show Matthew trying to dig out his pedal-powered tractor. You might notice that he had a fair bit of it exposed and then suddenly it is buried more. Those pictures are taken on different days and another snow storm covered up his tractor more, undoing all of his work.

I helped him try to get it out just to see how deep the snow really was. We were making OK progress but then we got to a bunch of ice. At a certain depth, the tractor was just encased in a huge block of ice. There was no digging out the tractor and besides, what was Matthew going to do with it anyways in so much snow?
Thankfully, my tractor wasn't encased in ice because it was very busy this winter. I have a snow blower attachment for it and was out there clearing the driveway more often than I would have liked. Most times I can do the drive way in about 20 minutes but we had several very heavy snowfalls which took much longer. One weekend, I decided to clear what had fallen while it was still coming down so it wouldn't get too deep. While working through it, I had a couple of technical problems when the chain came off one of my tires and had to refill with gas. With those delays, I had to re-do from the start again because the snow was coming down fast enough to cover what I had already done.
It was a good winter for skiing and Matthew went a few more times. By the end of the season, he seemed much less interested but I think he was just done with winter as we all were by then.
Thankfully, it is all gone now. In the past, our sump pump tends to work pretty hard for 24 hours during the spring thaw. This year, it was busy pumping water for a solid week. Worried about the risk of a failure, I bought a backup sump pump just in case. Unfortunately, I didn't get it until very late and the very next day when I was considering installing it, the sump pump started working. So, we didn't have the benefit of the backup this spring and thankfully we didn't need it. But, I will get it installed so we won't need to worry about a sump pump failure in the future.