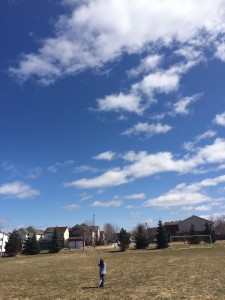 It has been a very long winter this year.  But this past weekend, we had our first real spring day.  Saturday was a bit cool but by no means cold.  It was windy so we took one of our kites to the park.  Samantha spun all the line out and flew the kite for quite a while.  If you look at the pictures, you will see her holding an umbrella between her legs just in case the weather changes.  I guess after that winter, she has come to expect the worst but the umbrella wasn't needed.
After several minutes, she was done flying the kite and passed it over to me.  She ran to the swings while I flew the kite for a while and slowly wound it up.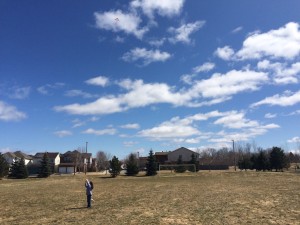 A bit later, Matthew and his friend Ryan came home from their curling practice.  Ryan had never flown a kite so we set it up again and they both passed the kite back and forth between them for a while longer.  Before we knew it, we had spent the entire afternoon at the park and it was time to head home and prepare some dinner.
Sunday was even better.  It wasn't windy so we left the kite at home.  We spent a couple hours setting up the patio furniture and just cleaning up the lawn.  With our chores done for the day, it was back to the park for a few hours before dinner.  After dinner, we spent another hour at the park.
Something tells me that we were suffering a bit of cabin fever from the long, cold winter.  But it seems that is well and truly behind us now.  On to BBQs, kite flying, park visits, walks through the neighbourhood, bike rides and lots of other outdoor activities.