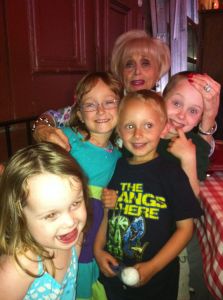 This summer, we have had lots of visitors here in Ottawa and we have travelled ourselves to see friends and family. Cynthia's grandparents from Montreal came to visit early this summer and we all met for a wonderful dinner out. My mother came to visit for a weekend and Cynthia's dad and Nannette also were in town at the same. You can see some pictures at a park where many of us took turns on the swings.
Both my mom and dad came for a visit in July and then by the end of July and into August, we travelled to SW Ontario. We stayed at mom and dad's place where dad and I worked on a special project which I will have to post about separately. Also, we had a chance to see my brother, Katherine and James, my nephew. While there, we caught up with Jeff who is an old friend who I don't get to see often enough these days. We also spent an evening with Erin and Dennis and their kids who moved to London from the Ottawa area not long ago. You can see some pictures of Dennis and I making some noise with a couple of guitars and having a great time doing it.
Over the long weekend just past, Steve, Katherine and James came to visit which was their first time to see our new house since moving back to Ottawa. James was lots of fun and helped us by pointing out all of our doors. While he was hear, we engaged to child locks on the cabinets in the kitchen which was always good for a laugh when Cynthia and I would forget and struggle to open the door. I don't have any pictures from that visit up yet but hope to soon.
Now with school started again, most of our summer visits are done. Hopefully we had a chance to catch up with you but if not, drop us a line or stop by some time.