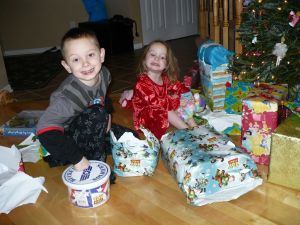 Months ago, Christmas Day came and went and although we took a few pictures I hadn't gotten anything up on the website. Until now. Matthew was very happy when he found a couple of Lego sets under the tree. But, he also got some other interesting toys like some Snap Circuits which lets you make simple electric circuits from some standardized snap-able pieces.
Samantha got a electronic dog which still drives me crazy. If she leaves it on, it will bark when its light sensor detects a change in the lighting. So when I turn the lights out at night when I go to bed, suddenly this fake dog barks and often makes me jump. When its batteries die, I don't seem to rush to replace them.
I got tickets for a musical version of "Legally Blonde" at the NAC for Cynthia and she was pretty surprised. When the day of the performance arrived, I took care of the kids while she enjoyed the show with one of her sisters. Not being a fan of musicals, I didn't mind missing it…
Christmas evening, Cynthia's mother came to visit and help me with a turkey dinner. I can't recall anything much about the meal after all these months so I assume it was uneventful. I am sure I would remember if I ruined the dinner somehow so I guess I pulled it off OK.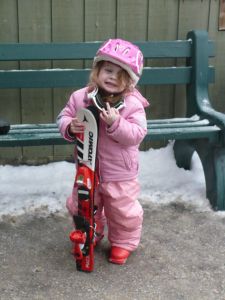 With Christmas over, we had to prepare for our trip to visit Cynthia's dad at his place near Collingwood where we stayed until just before New Year. Unfortunately I was feeling very under the weather with a terrible cough so I mostly just stayed around the house resting. But Cynthia, her dad and Matthew spent quite a bit of time skiing. Samantha went skiing one of the days also. Actually, she mostly was held up and chaperoned down the hill but she had a great time.
We have some video also of Samantha and Matthew skiing also. Matthew is pretty much ready to try something a bit harder than the bunny hill. Because it is such a shallow hill, you will see that he just goes straight down. Something a bit steeper would hopefully put a bit more fear into him and convince him to make some turns.
The kids had a great time and I am sure they would love to visit again next year and try some more skiing. Thanks for your hospitality Steve and Nanette!