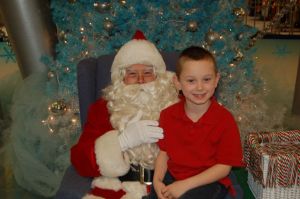 With Matthew's birthday past, Christmas was coming quickly. So, I took an afternoon off work and our plan was to take Matthew and Samantha to see Santa and pick out a tree. Thinking that getting to the mall early would beat the line for Santa, we arrived to find that Santa didn't arrive until after dinner time. So, instead we went in search of a Christmas tree.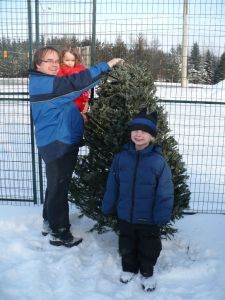 Not far away, we found a lot with some nice trees and did a bit of browsing. Normally we get a very tall tree but this year we opted for something a bit smaller. That way, we could more easily fit it in the trunk of my car and we had a perfect spot between the stairs to the second story and the stairs to the basement where a small tree would fit. The tree we picked was just about my height so not tall. A couple of bungee cords later and it was secure in the trunk of my car.
We headed home to drop off the tree. Now the plan was to leave the tree at home, get back to the mall and find something to eat and then get in line for Santa. After a quick dinner in the food court, we got the line up about 10 minutes early to find only one other family in line. So, shortly after Santa arrived, Matthew and Samantha were confiding in him their wishes for Christmas day.
Later that week, we decorated the tree. Having the tree right beside the staircase made it very easy for Matthew to put the star at the top. We bought another strand of lights this year because we always found the bottom just a bit too bare with our larger trees so this year, our tree had lights to spare.
We were all ready for Christmas.