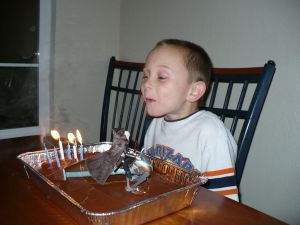 In December, we celebrated Matthew's 7th birthday. During the week before his birthday, we had a party for him and his friends at Build-A-Bear. I came home from work early that day and Samantha and I stayed home while Cynthia and Matthew went to meet the guests. Everyone built their own bear and Matthew opened his gifts. Matthew loved his party and was happy to be with his friends.
Later that week, we had a cake on Matthew's birthday. I baked it (counting carbs as I went so Samantha could enjoy it) and Cynthia put a small Star Wars toy on for decoration. After enjoying some cake, Matthew opened a gift from us. We gave him a video game, "Lego Indiana Jones 2". Matthew had been watching demo videos of this game for weeks online and was so excited to get it. The special thing about the game is that you can actually create your own levels. Although Matthew and I have spent most of our time playing the game, we have worked together to build a couple of small levels. But, he does seem very interested in creating his own games and I think that is why he wanted it so bad.
He really is growing up though. His adult front teeth are all in and he is reading very well. Often while driving, he will say "What is …" something and we realize he is trying to read a sign and doing a pretty good job but not quite right. Before we know it, he will finish grade 1 and headed for eight.