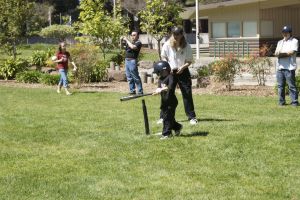 We signed Matthew up for T-Ball a month ago or so and he has played a bunch of games and seems to be having a great time. A friend from school was playing on the Giants little league team and his mom was the coach so we arranged for Matthew to be on his team also. He has a practice every week and we take him to his games on Saturday. While there, Samantha often asks to go on the swings. She lets me watch an inning or two before she loses patience and we move to the playground.
Matthew started on the team with a borrowed mit. We weren't sure he was going to enjoy it so we waited a bit but after his first full game, it was pretty clear he was enjoying himself. He still doesn't entirely understand the game and sometimes forgets which way to run or where to throw the ball but he is getting there. I probably should watch some games with him on TV or better yet, watch some of the older kids playing at the park after his game. He has asked to play soccer also and I think there is a local league we can sign him up for in the fall.
We have a bunch of video clips from a few games but I will wait until we have more and I will see what I can do in iMovie and get something online in late June.