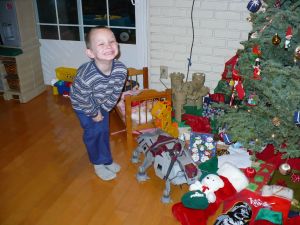 Matthew woke us up just after seven o'clock on Christmas morning. Samantha was still asleep but Cynthia, Jumping Jack Grandma and I made our way down the stairs with Matthew to see what Santa had brought. As you can see from the picture on the right, Matthew was pretty excited by what he saw.
Matthew saw the Star Wars toy from Santa and the bike from Cynthia and I. The funny thing about the bike is that he helped us pick it but completely forgot about it. We went to a store to look at bikes and found the perfect one. Matthew rode it around the store several times and wanted to get it that day. After trying to explain to him several times that Christmas was coming and maybe someone would get it for him, he just wasn't happy with that. In the end, we had to tell him he would get it for Christmas and not to worry. That made him happy and we left without the bike. I came back a day later and picked it up. Later, we were talking to him about Christmas and we said that he knew one of the gifts he was getting but he couldn't remember at all. So, it was a surprise anyways. I guess these surprises are easier when they are younger.
Matthew got lots of great gifts. Uncle Steve and Katherine sent a Spyro the Dragon game for his DS which he loves. Jumping Jack Grandma got him a little sandbox with little trucks in it which he plays with all the time. You can see a picture of him and his grandma playing in the sand. Grandma Heather and Poppa sent a copy of Wall-E. He loves that movie and we have already watched it a couple of times. I am sure I am forgetting other gifts he got, but he really loved everything. Thanks everyone.
After opening a few gifts, Samantha woke up. I brought her downstairs and she instantly went to her new kitchen to play. She loved it so much. Now when we are preparing dinner or cleaning up afterwards, we just tell her to go to her kitchen and she plays there for a little while before she comes back to see how we are doing. The other gift that was a huge hit with her was a doll that Uncle Steve and Aunt Katherine sent. You can see her playing with it in the video.
I gave Cynthia a pair of diamond earrings. When I went shopping, that was my plan all along, so, like any man would, I went straight to the jewelry store without any wandering through the mall. I wasn't going to spend any more time there than I needed to. I explained to the saleswoman what I was looking for and she said, "here is a pair she will love". They did look good so I asked what they were worth. She said $15,000 and I said I needed to find something more affordable. Much more affordable actually. In the end, I found a great pair and I think Cynthia is very happy with them. But, I don't think the saleswoman was as happy because she said a couple of times that my wife can come in after the holidays and upgrade if she wants.
My gift from Cynthia, Matthew and Samantha was a Drobo and three 1 terabyte (1000 gigabyte) hard drives. The Drobo allows me to put up to 4 drives into it, and I get 3 drives worth of protected space. So, I put the three 1TB drives in, added a fourth which I had already and I had 3TB's of protected space. The goal was to move all of our movies and backups to the Drobo but in the course of moving the data, my Linux server died and I lost our data. Thankfully, the vast majority is just DVD's we own and have ripped so we can play them on our computer, AppleTV and iPods. So, I am going through and re-ripping everything which is taking quite a while. But, this solution should provide us much more room to grow. The old Linux server had a RAID configuration I setup years ago with three drives that gave me 600G of total capacity and it has been 98% full for a couple of months now. So 3TB is quite an improvement. Rumour is that Cynthia may be getting a fancy DSLR camera though so perhaps we will end up with 100's more pictures and videos to start using up some of that 3 TB's.
That evening, I made prime rib, potatoes and carrots for Christmas dinner. Serena and I enjoyed a local red wine which was very good. Soon enough, it was time for the kids to go to bed. Matthew went to his room with a couple of his new toys, while the adults stayed up for a while to play a bit more of Rock Band 2.
It was a great first Christmas in Sunnyvale and we really appreciated having Serena there to help us celebrate.