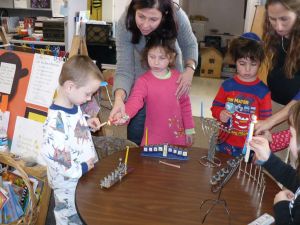 Matthew's class had two parties before the December break. They had a Christmas party and a Hanukkah party. Samantha and Cynthia walked to the school to join in on the fun and Cynthia took a bunch of pictures. Here is a selection of them. For the Christmas party, Matthew made a gingerbread house and he lit a candle on the menorah at the Hanukkah party. Also in the pictures, you can see Mr. Horn, Matthew's new teacher.
Actually, I don't think we have mentioned this yet. Just a day before Matthew's birthday, he finally was accepted to the local school which is just walking distance from our new house. Up until then, he was being taken to his school in a little bus all by himself and he was really looking forward to being able to just walk to and from school. He got his wish and he is very happy at the new school.
Also, he is doing very well. He is still in kindergarten and will very likely stay there. Mr Horn says he is an excellent reader but could use more work on handwriting and numbers. A bit more time in kindergarten should ensure he continues to do well going forward.