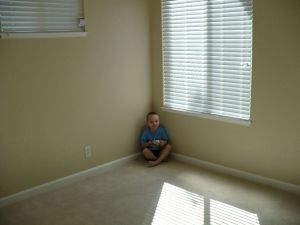 So, we actually did it. We have moved from the Ottawa area to Sunnyvale, California. Our house in Canada is for sale and we are renting a four bedroom house here in Silicon Valley. There are still a bunch of boxes around but we are unpacked enough and we will continue to work our way through them. This coming week is US Thanksgiving so I have Thursday and Friday off so with an extra long weekend, we should get a bunch of stuff done.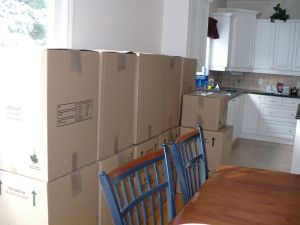 We moved out of our old house on October 31st, Halloween. The truck was loading our stuff all day while I sold both our van and my car at the last minute. We had hoped to take my car but the cost and complication to make it legal in the US made that unreasonable. We had already found a buyer for the van and lucked into someone who wanted the car that day. The truck was loaded and gone by about 4:00 PM. I had picked up the rental van earlier in the day and once we were ready, we said good bye to our house and left Dunrobin.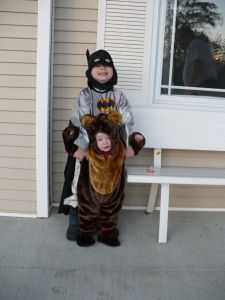 We went to Kanata and got some dinner at Subway before we met with Dhruv, a good friend of Matthew's, and his family. The plan was to go trick or treating with Dhruv in Kanata. Then, Matthew would spend the night at Dhruv's house while Cynthia, Samantha and I stayed the night in a hotel. We did the neighbourhood and Matthew got a bunch of treats. Not long after that, the three of us left for the hotel. We were looking forward to some rest after a busy day.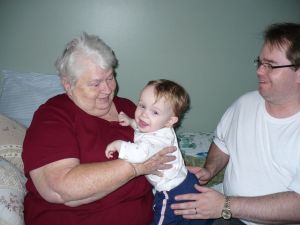 The next morning, we picked up Matthew and headed to Washago to visit with my Grandmother. Samantha was all smiles for Grandma and I think everyone enjoyed catching up. Matthew enjoyed a couple of cookies also. After a couple of hours, we had to move on and get to Toronto. Our plan was to stay at Cynthia's dad's place Saturday and Sunday night and then fly from Toronto airport to San Francisco airport. We still had a fair bit of driving ahead of us so we hit the road. Shortly after starting, both kids fell asleep and we made good time to Toronto and delayed dinner until we had arrived.
On Sunday, we went to visit Scott, a friend of mine from university. We had a chance to visit with him and his family, Karyn, Gavin and Natalie. Gavin and Matthew had quite a bit of fun together and Scott and I went out to bring some sushi back for lunch. After playing a bit of Rock Band 2, it was time to get back to the house. We were planning to have dinner with Cynthia's dad and Nannette and Kay. Cynthia and Kay grew up together in Toronto. It was another busy day and we slept well again that night. We didn't see everyone we would have liked but appreciated the time we had with friends and family that weekend.
By about noon on Monday, we loaded into the rental van and drove to the airport. Other than being able to visit with people, we also were in Toronto for the direct flight. It was much easier with the kids not having to make a connection in Chicago. Once on the ground again, we got another rental and I opted for the GPS which had been a great decision. They provided a Garmin Nuvi and I think we will buy a pair soon (after we buy some vehicles to put them in). Not knowing the area, the GPS has been very helpful. We are often out buying all of the little things we need for the new house. It helps us find Sears, Target, Ikea or whatever store we need. When lunch time rolls around, it tells us what is close and away we go. Of course, if you have any feedback on what GPS to get or avoid, let us know.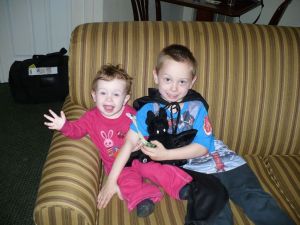 We stayed for a week and a half at the Staybridge Suites in Sunnyvale while we waited for the truck to arrive with our stuff. Staybridge was a great place for us to stay. There was a living room/kitchen area and two adjoining bedrooms with private bathrooms in each. Matthew had a bedroom and bathroom to himself. We put a crib in an alcove intended to be used as a closet in our bedroom and everyone was well accommodated. Every morning, there was a wonderful breakfast and they provided dinners most weeknights. One night when dinner wasn't provided, we bought a couple of steaks and I used a gas BBQ there to prepare them. I was surprised how dark it got while BBQ-ing. I am just not used to having winter-like daylight but spring time weather. But, I did OK without the light and we enjoyed our dinner that evening. It was a good change from all the eating out we had been doing.
The lease on our new house had started already so we spent some time preparing the place. We bought a TV stand and I spent one evening putting it together with only a screwdriver. I thought I was planning ahead by bringing a screwdriver set with me in my checked bags. That way, I would have some tools handy. Did you know that you can hammer finishing nails with the back end of a screwdriver? Turns out it mangles the handle a bit but works. But that was the only tool I had, everything else was somewhere between Ottawa and California.
During that time, I was trying to spend some time at work but that was difficult. We only had the one rental vehicle and someone had to go to the school and enroll Matthew. And someone had to go to the property management office and pick up the keys. And someone had to be at the house to let the cleaners in. For every hour I spent at work, I probably spent two dealing with these kinds of things. But, that was expected really.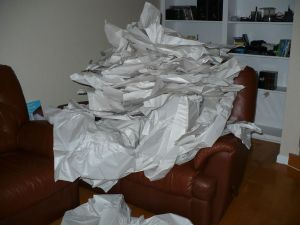 The truck arrived with our stuff on Wednesday, November 12th. They unloaded the truck as we checked off each item on the list. For the last couple of hours, Cynthia and I watched as the garage filled up bit by bit. Most of the rooms were already too full and couldn't accommodate more boxes. We were moving into a house which was probably less than 2/3rds the size of our old house. Lots of stuff had been given away, sold or thrown out before we left but not enough. Since then, we have dropped off two boxes to the Goodwill already and there are two more ready to go. Thankfully, we kept the room at Staybridge for that night. Thursday, we returned to the house and started the unpacking. We had checked out of Staybridge so we needed to make everything livable that night.
Now, we have been here a couple of weeks. We are online, have our TV and phone hooked up, have a full fridge and freezer and I have a tank of propane hooked up the BBQ. We are enjoying the beautiful weather and slowly settling into our new environment. We miss everyone and Matthew often talks about his friends and missing Canada. But we will be back to visit before you know it and I will try to update this webpage more frequently so everyone can hear how you we are doing. In the meantime, send us an email or give us a call. We would love to hear from all of you.