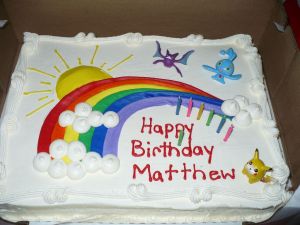 Because of our move, we decided to hold an early birthday party for Matthew. He will turn six in December, but we would be in Sunnyvale by then. And we wanted to have a party where Matthew could see all of his friends in the Ottawa area before we left. So, we send out this invitation and arranged a party at Pro-Style Karate.

Matthew had a great time and he enjoyed seeing all of his friends. They played dodgeball against the parents, practiced kicks and punches and ate a bunch of cake. Matthew cut the cake with a sword.
Unfortunately, I was not there so I can't elaborate much more. Cynthia took Matthew to his party. I stayed home with Samantha and prepared for our house hunting trip to California. As soon as Matthew and Cynthia got home, we went to the airport and flew into San Jose and signed a lease on the house we are in now. This past month was a real whirlwind. But, we did make some time for things like Matthew's party and that has been very important for us and him.