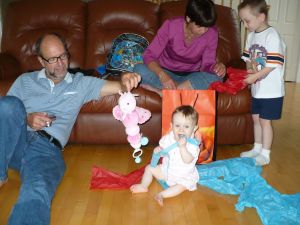 In early August, Steve and Nannette drove from Toronto for a visit. They visited with Stefanie and Dan at their house first. They arrived in Dunrobin just as Samantha was waking from her afternoon nap. The kids opened some presents and you can see Samantha eating some paper in the photos. Matthew loved his Batman backpack which he will be using soon for school. Also, he loves the gecko Webkinz named "DaCount" and he still keeps it with him wherever he goes and visits the website occasionally.

We spent some time in the afternoon playing with Rubik's cubes. Samantha loves mixing up the cube for me. Nannette was especially enthralled with one and I think she may find she gets one as a gift soon. 🙂
I cooked some steaks on the barbeque for dinner and we enjoyed a nice bottle of wine. After dinner Zaida took Matthew for a walk and bike ride. They had so much fun that they were surprise to realize they had been gone for nearly an hour.
The next morning, we went to their hotel. Already there and in the pool was Stef, Dan, Mia and Jacob. We quickly got our swim suits on and hopped in. This was Samantha's first time in a pool and you can see her enjoying it in the photos. After the swim, Zaida Steve treated us to a pizza lunch in the hotel room. We watched some of the Olympics as we ate a few slices.
Unfortunately, Auntie Alison wasn't able to join us because she was away on business.