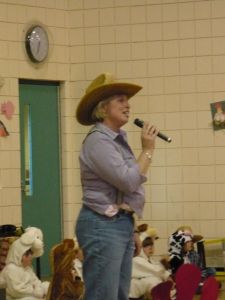 The kindergarten classes at Matthew's school put on a country themed concert this spring. Each class performed different songs, dances, recitals and other performances. It was a great event and thankfully Matthew was feeling well this year. Last year at a similar event, Matthew was pretty sick and we could see he wasn't too happy to be performing with his junior kindergarten classmates so as soon as he was done, we grabbed him and headed out. But this year, he was feeling great and the concert was great. Check out the pictures and read more below for a link to a video clip from his class' performance.

If you watch the video, you can see Matthew struggling a bit with his hat. Cynthia didn't know exactly what was in store for the evening and was asked to dress him like a cowboy. The hat didn't fit that well but seemed acceptable at the time. But, it didn't do him any favours as he struggled to keep it on his head.
Samantha had a great time watching and listening to the show on my knee as I fed her Cheerios slowly. Matthew had to miss his first soccer practice of the year for this concert but it was definitely worth it and a lot of fun for all of us.