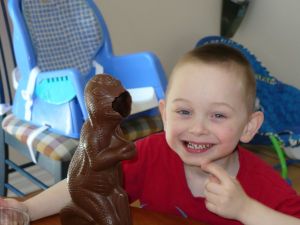 Easter came and went about month ago and Matthew had a wonderful time. The Easter bunny came and hid eggs all over the house (actually mostly on the first floor) and left a chocolate T-Rex for Matthew. He also left a chocolate bunny for Samantha but she is too young for that so Matthew and Cynthia took care of that for her.

Matthew did a great job finding most of the eggs but the Easter bunny was pretty tricky and he needed some help finding the tougher one. Like the one on top of the door bell, well out of his reach. Together, Matthew and I got that one but putting him on my shoulders.
The chocolate T-Rex didn't last too long but I think we still have chocolate eggs left a month afterwards. So, if you stop by to visit, ask for a chocolate egg. I am sure we have some to offer.