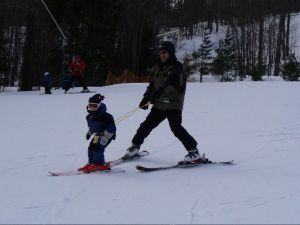 On Boxing Day, we packed the van and went on our yearly trip to visit with some friends and family. The plan was to see some friends in Toronto, spend a couple of days in Collingwood with Cynthia's dad and Nannette and visit my Grandmother in Washago before heading home again before the New Year. It was a great trip and as the picture shows, Matthew went skiing for the first time.

In Toronto, we planned to visit with Cynthia's long-time friend, Kay and her daughter Shannon and to also see a friend of mine, Scott and his wife Karyn and son Gavin. We were staying at Cynthia's dad's place in the city which we very much appreciated. Kay and Shannon stopped by one afternoon for a visit. Matthew seemed to have a great time playing with Shannon. Unfortunately, Gavin was sick so our plan to see Scott and his family fell through. But, we told them they are always welcome to visit us in Ottawa or we will try to meet up with them the next time we are in their neighbourhood.
The other plan we had was to go to the Royal Ontario Museum and see the new exhibits. They recently opened new dinosaur and ice age mammal exhibits. Matthew loves dinosaurs and woolly mammoths so we had to go. He and I made the trip one morning. I could have sworn that the museum opened and 9:30 and was surprised it hadn't opened yet when we arrived at 9:45. We waited in a short line until 10:00 and got our tickets fairly quickly. Before we new it, we were standing in front of a mastadon, a relative of a wooly mammoth. We also saw a T-Rex skeleton and many other dinosaurs. The exhibits were great. We also saw some of the older natural world exhibits. The bat cave was a big hit also with Matthew's recent fascination with Batman.
Then, we travelled to Cynthia's dad's place in Collingwood. We were arriving on Friday and the plan was to take Matthew skiing on Saturday and then perhaps head home Sunday or Monday at the latest. Matthew went skiing on Saturday as planned. Zaida spent the day holding him and teaching him the basics. Cynthia went along also to help out and to get onto skis for the first time in many years. Matthew loved it so we decided to stay on Sunday so he could go skiing for a second day. In the end, we bought Matthew's rental boots and skis and Cynthia is already talking to friends around here with kids Matthew's age to arrange trips to the ski hill in Pakenham. It should be a great winter activity for the two of them. We really appreciate Zaida Steve's introducing Matthew to skiing and I am sure he will be happy to take him again in the future, hopefully without so much hand-holding.
On Monday, New Year's Eve, we headed for home. By the time everyone was packed, Samantha was fed and we were ready to go, it was just past 11:00. With a late start, and stops for lunch and another feeding for Samantha, we didn't get to Washago until 3:00 or so. But, we had a great visit with Grandma Kay who hadn't yet met Samantha. Samantha was her usual smiley self and she really took a shine to her great-grandma. Matthew was a little hyper from the time in the van and was happy to get lots of attention from the other residents who provided him with gingerbread and other treats. Unfortunately, we couldn't stay too long because we still had a long drive ahead, so as the time approached 5:00, we had to get on the road again.
With more stops for dinner and feedings for Samantha, we ended up rolling into the garage at home at 11:55 PM, only 5 minutes to the new year. Cynthia and I welcomed 2008 in the garage carrying bags into the house. But it was a wonderful trip and we had a great time visiting everyone we could. Thanks everyone for your hospitality and Happy New Year.