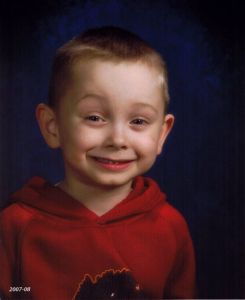 We recently got Matthew's senior kindergarten pictures so I thought I would take the opportunity to describe how Matthew is doing in school so far this year. Matthew is having a great time in senior kindergarten and is doing very well. He comes home with new knowledge, songs and French words all the time. A couple of days ago, he was telling Cynthia and I about how you can combine the primary colours to make different colours. Often when we don't understand what Matthew is saying, so we ask him to repeat it and find that he was speaking French.

Matthew's big challenge for this year is his handwriting. Early in the year, the teacher told us that he was significantly behind compared to the rest of the students in his writing. So, we have been working with him a fair bit at home and his teacher has been giving him extra instruction and encouragement. That seems to be paying off. His printing of his name is getting much more legible. Every week, the class focuses on a single letter and practices writing it. This past week was the letter "B" and by the end, his printing of that letter in both upper and lower case looked excellent.
Cynthia and I were offered the opportunity to observe a class and we did so last week. Even with the distraction of his parents and baby sister in the room, Matthew was very attentive and participated well. They are learning to read simple words like "the" and Matthew is clearly picking that up well. He is pointing out the's everywhere. We have a couple of LeapPad books as gifts for him for his birthday and Christmas which we think will be great to help him with his reading also.
So, as the picture shows, Matthew is enjoying school this year which I think is a big part of why he is doing so well.