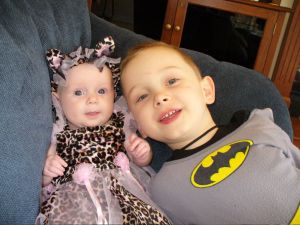 Yesterday was Halloween and Matthew had a great time. The day before Halloween, he and I worked on the pumpkin. We got the pumpkin fairly early in October and he asked nearly daily if we could carve it. Finally, the time had come. He was wearing his costume so Cynthia and I told him to take it off or he may get it dirty. Next thing we know, he is naked and reaching into the pumpkin and pulling out the seeds etc.

This was the first year that Matthew actually helped with preparing the pumpkin. In the past, he didn't want to touch the inside and left that to me. He wasn't too keen at first but in the end, he cleaned out the inside mostly by himself and only with a small amount of help from me. Then, he and I drew what we wanted the pumpkin to look like. Matthew wanted square eyes, a triange nose and a frowny mouth. Also, he insisted on adding eyebrows. We drew the face on a piece of paper first and then I started carving it on the pumpkin. Matthew really wanted to have eyebrows and he drew then on with a marker. I was asked to carve the eyebrows, so I just put a jagged top to the square eyes. Eyebrows aren't easy. In the end, it looked OK.
On Halloween, Matthew had a special event at school. The kindergarten class put on a concert for everyone and Cynthia and Samantha were there to see it. We have some pictures of the students in their costumes in the slideshow. The costume is another interesting thing. Matthew had been talking about going as Darth Vader for months. A couple of days before Halloween, Cynthia was looking through some old, small costumes to find something for some friends and Matthew found a Batman costume. It was too small but he was sure he wanted to be Batman now. Cynthia and I are not sure where this was coming from because he has had no exposure to Batman. It must be from school where they have been studying bats and I am sure the other kids talk about Batman.
Of course it could be worse things than Batman that he is bringing home from school. Last year after only about a month of junior kindergarten, Matthew came home with the phrase "you're f—ing me up". That was a bit of a surprise but after explaining that he shouldn't say such nasty things, that seemed to stop.
Yesterday evening, we went trick or treating in Morgan's Grant, a subdivision in Kanata. We went with Dhruv and his family who is one of Matthew's best friends. They ran from one house to the next and it was tough at times to slow them down. I carried Samantha and she was awake and pretty happy during the evenings activities. We had wonderful weather and the evening wasn't too cold for October 31st.
Now we are doling out the candy bit by bit. Something tells me that if I looked though, I could probably find left over candy from last years Halloween somewhere in the house…