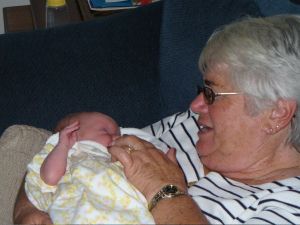 We had a visitor and a bunch of help for a few days early this month. For five days, Grandma Heather was staying with us. She helped us out a bunch, feeding Samantha, playing with Matthew, cooking some meals, helping clean up and lots more. By coincidence, my brother Steve and his friend Katherine had proposed a visit for September 4 or 5th. We suggested later rather than earlier because Samatha was expected to arrive less than a week before. So, Steve proposed visiting Ottawa after seeing our parents in Killarney.

Seeing the opportunity, my mother hitched a ride with Steve and Katherine from Killarney. That evening, we all visited for several hours. It was great to catch up and meet Katherine. Matthew was excited because Steve, Grandma Heather and Poppa and a good friend, Jeff had brought him a special gift. It was a RoboReptile and after a couple of weeks, he is still completely taken by it.
The next day, Steve and Katherine were planning to see some sites around Ottawa and head on. But mom stayed with us and was very helpful. Something tells me she got something out of it also, getting to see her grandson and her new granddaughter. Thanks mom!
We have some pictures from the visit online also.