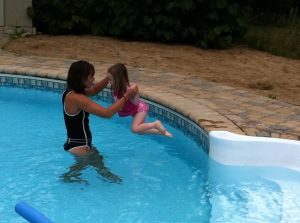 Matthew and Samantha took some swimming lessons this summer. Some good friends of ours have a pool and wanted to put their son, Alex in some private lessons. Matthew and Samantha had the opportunity to join in also. Samantha had one on one lessons with the instructor and Matthew and Alex both had instruction at the same time. Both Matthew and Samantha showed great improvement in only one week of intensive lessons.
Samantha's lessons were mostly about being more comfortable in the water. She spent much of her time jumping in and swimming around with a bit of flotation. Matthew made great improvements and by the end of the week, he could jump in the water from the deep end and then swim all the way to the shallow end and grab the far edge without any extra flotation.
Cynthia and I would like to get them in some more lessons this summer. Perhaps if they can get to be better swimmers, we may even consider getting a pool of our own.