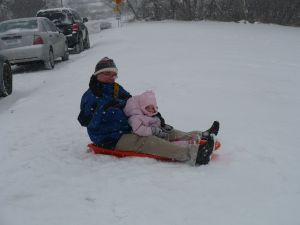 A short distance from our new house is a great tobogganing hill. So, we picked up a couple of sleds and took the kids a couple of times this winter. It is a reasonable walk for Matthew and I from the house to the hill. The walk becomes unreasonable when you end up having to carry Samantha and pull the sled though. The second time we went, we drove if only to avoid a cold walk back when everyone is tired.
The hill starts at the edge or a residential road and drops down a good distance to a soccer field. So, when you are heading down the hill, you don't have to worry about running out into traffic. You can just keep going until you run out of momentum.
Matthew went up and down that hill too many times to count and just didn't stop until we said it was time to head home. Samantha went down the first couple of times with me but after that she started going down by herself. But, that didn't mean I could stay at the top of the hill. Instead I had to go down to the bottom and pull the sled up for her next run. Sometimes, she would be tired and sit in the sled for me to pull it and her up.
Afterwards, we would head home for some kind of treat. For some reason, we had ice cream after a cold day tobogganing as you can see in the photos. As the kids get older, they will be able to go the hill on their own and spend some of their winter days there the way my brother and I used to do at "the hill" next to his friend Greg's house.