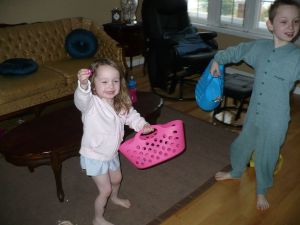 We do things a bit differently at Easter at our house. Because Samantha is diabetic, the Easter Bunny doesn't leave as much chocolate here. He does hide some chocolate eggs around the house but there are no chocolate bunnies. Instead, he gives a little gift to Matthew and Samantha.
Samantha and Matthew grabbed their baskets Easter morning and started searching for the eggs. We encouraged Matthew to leave some of the easier ones behind for her sister to find and he focused on finding some of the ones which were more hidden. In the end, I think Samantha maybe gathered a couple more than Matthew did.
In the video, you can see the moment when they found the presents the Easter Bunny left behind. It was a couple of Nerf guns which shoot foam darts. I guess the Easter Bunny assumed that the best approach for a couple of kids who argue as much as Matthew and Samantha is to arm them. Maybe a bit of "mutual assured destruction" will help.
Later in the day, some good friends of ours came to visit and join us for dinner. I made roast cornish hens and it came out quite good and I think impressed our guests. After dinner, we played a bit of Rock Band before it got late and it was time to call it an evening.