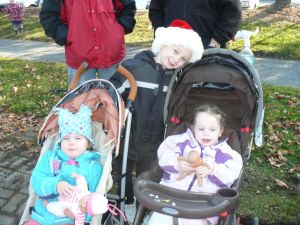 Samantha saw her first Santa Claus parade this year and Matthew hadn't been to one in many years and probably didn't remember it. Matthew went to one in Kinburn a very long time ago but we had never made it to the one in Kanata until this year.
Samantha found some of the moments loud like when a truck would pass and sound its horn. But she enjoyed the music. Matthew gathered candies and waited for Santa who finally came at the end riding atop a firetruck.
This was definitely a good start to the Christmas season for Matthew and Samantha.