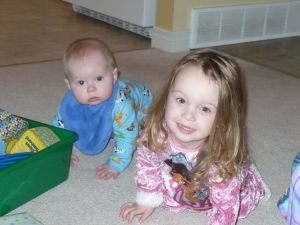 For Thanksgiving weekend, we travelled to St. Thomas to visit with my parents, my grandmother and my brother and his new family. We were able to be at Steve's wedding to Katherine which was about a year and half ago now. But, we hadn't yet been able to meet James, their new baby boy. So, we were very excited to make the trip to catch up with everyone as see James.
We took the kids to an Great Lakes Farms and picked lots of apples. Matthew and Samantha picked so many apples, we still have about a half dozen in the kitchen waiting for someone to eat them. The kids played on some bails of hay while the adults rested and enjoyed some cider.
The next day, we went to Ferguson's Produce and picked up some pumpkins. We also turned some of Samantha's old clothes into a little scarecrow and Steve, Matthew and I spent some time lost in a corn maze. When we found our way out, we saw that Samantha had her face painted to look like a pink cat.
Jeff who used to live next door when I grew up in St. Thomas stopped by for dinner that evening. Later, Jeff, Steve and I went out for a few drinks and to catch up. Congratulations on the new sailboat Jeff.
The next day, we went to my parent's house for Thanksgiving dinner. Katherine and Cynthia had talked about how both of them love sushi so on our way, we got some food at Take Sushi Korean & Japanese restaurant in London. It was very good although I did get a bit more wasabi in one bite than I intended at one point.
Mom had a wonderful Thanksgiving dinner. My uncle George and aunt Barb were there as well as my cousin Darcie who I hadn't seen since we moved to California. With dinner and visiting done, we said our good-byes and headed back to St. Thomas to stay one more night with Steve, Katherine and James.
It was a wonderful visit and it is so nice to be back so we can make a (relatively) short trip like that and see so many people who are important to us. Special thanks to Steve and Katherine who opened their home to us. Let us know when we can do the same.