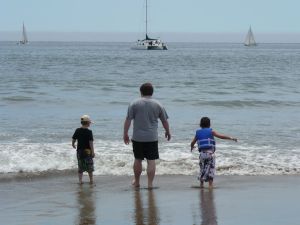 Over the long weekend (Memorial Day), we went on trip to Santa Cruz. We booked a hotel for the weekend even though Santa Cruz was only about 40 minutes away. We had plans for the entire weekend.
On Saturday, we spent the day on the boardwalk. Samantha loved the rides before she passed out in the afternoon. So, we relaxed in some shade for her to rest. Matthew and I visited a "haunted walk". You had to be 13 to enter alone so the attendants and I discouraged Matthew. But he assured us after peeking in that it didn't look too scary. So we pressed on. It was dark and Matthew was pretty scared! But he survived and had no interest in trying it again.
Later, we had an excellent meal at a restaurant on the beach. I had a wonderful mahi mahi fillet and Cynthia had salmon. It was the first time in quite a while since we were at a nice restaurant and it went pretty well with the kids there.
The next day, we drove a bit further to Monterey to visit the aquarium. We had been there and it was actually the first tourist-y thing we did in California. At the time, we were determined to go back and this was our chance. Samantha was a bit older and she loved it even more. She spent a long time at the areas where you could reach in and touch different things. Matthew waited for quite a while to touch a ray but never got the chance. Still it was a great day and we returned to our hotel for one more night.
The last day we spent on the beach. It was just a tad cool and the water was cold but that didn't deter us too much. Everyone spent some time to varying degrees in the Pacific. Matthew went the deepest – up to his waist. Most of the time was spent playing in the sand and just enjoying our time together. And unlike at Bodega Bay, we weren't dealing with 30 mph winds.
Before long, it was time to pile into the car and head back home. It was a great time though, especially at the Monterey Bay Aquarium.