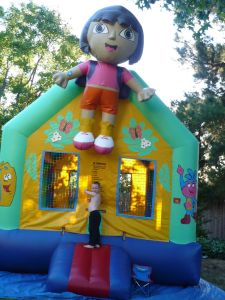 With only a couple weeks before our stuff was loaded on a truck headed for Ottawa, we had to throw a party to say goodbye to the friends we made in California. Cynthia ordered two jump houses for the kids. We had two so the larger kids could act a bit wild without risk of hurting one of the smaller ones. However, that didn't stop them from mixing things up.
Later in the day, I did my best to empty the freezer and cooked lots of chicken breasts, served with several different salads and home fries. We also baked a couple of cakes, removing those from our pantry. I guess everything was ok because there wasn't too much left over when it was all done.
We have lots of pictures of the kids with their friends. We will miss all of you and hope to visit again sometime in the future.