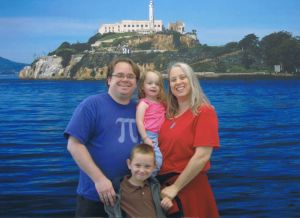 In early June, we went on a trip to visit Alcatraz. First, we had a short trip across the bay. I followed the kids around as they visited the bow and the stern of the boat. Matthew was disappointed that he didn't see a shark. That was probably influence from our visit to the Monterey Bay Aquarium the week before Maybe if we visit Grandma and Poppa he will have more luck with that.
Once at Alcatraz, we started the tour. We got the audio tour machine for everyone, including Samantha. But it was very quickly apparent we were going to be able to do that. Samantha wasn't going to be patient enough for that to work. So Cynthia and I removed ours but Matthew continued to listen. We wandered through the prison and Matthew would tell us about what he was listening to. They would rarely match up but we figured it out.
Before long, it was time to return to the mainland for dinner. We went to the Hard Rock Cafe and had a pretty good time there. It is noisy enough in there that Matthew and Samantha couldn't bother anyone if they tried.
It was another item off of our list before our return to Ottawa.