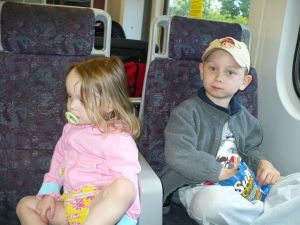 Last year, we attended Maker Faire and we were determined to be there this year also. This will be our last year living in the Bay Area so this was our last chance for us to attend. So, we got tickets for Maker Faire 2010 and boarded the Caltrain for the short train ride to the fairgrounds.
Unfortunately we didn't get too many pictures. But, we saw so many strange and wonderful things. For Matthew, the highlights were the Lego displays and the R2D2 robots people had made. We also were able to see Adam Savage from Mythbusters which was great. He presented a short prepared speech which was pretty good but he was at his best when answering questions from the audience. Apparently the 200 foot long slip and slide down a hill into a lake which appeared in a recent episode was one of the scariest things he had done (although I would have thought the duct tape bridge from another recent episode would have been much scarier). He is as personable and funny in person as he seems on the show.
We saw a prototype machine for digging on the moon. We saw lots of robots. The kids made a bunch of crafts. This year, we didn't see the model rocketry group so Matthew didn't build a rocket. But, it was very windy and I think they were either not launching them or maybe losing a bunch of them as they blew away after launch.
In the end, we probably saw less than half of it but what we did see was great. Unfortunately, we didn't get too many pictures of the faire itself. Mostly just the trip on the train and then walking back to the train station after. We were too intrigued by what we were seeing to think to take some pictures. This will be an event we will miss when we are back in Canada.