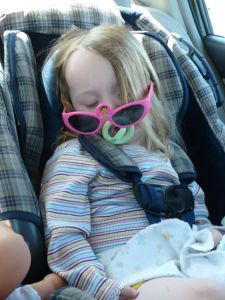 With only about one month left before we move back, we are trying to see more of the area than we have until now. We haven't even made it to see Alcatraz yet (soon you should see a story describing our trip because we will do it before we go). The day after Maker Faire, we planned a trip north to Bodega Bay. Actually, there were a couple of reasons we were making the trip.
First, I had a line on a new Mac Mini from craigslist. We had just sold our old Mac Mini on craigslist and picking up this one would give us an upgrade to the latest for just a couple hundred dollars. The plan is to use it as our PVR when we return. Then, we can push our recorded TV shows throughout the house through our network and even watch TV from our iPhones. At least that is the plan.
Along the way, we would stop in Petaluma. We would reach Petaluma around lunch so the plan was for Cynthia and the kids to have lunch while I visited the TWiT Cottage where they record several of the "Podcasts" I listen to. I only had a few minutes to spare and was told that the had a full compliment of guests for the day. So, I only expected a short tour at best. But, when I arrived, I was escorted into the recording studio and sat and listened while Leo Laporte did his "Tech Guy" broadcast. Unfortunately, I had to sneak out during a commercial break. I wish I had some more time to watch, especially if I could sit in for a recording of a "This Week In Tech" episode. But, it was definitely worth the trip and I re-joined the family, grabbed a quick sandwich and we continued on our way.
Next, we eventually found where we needed to be to buy the Mac Mini. With that transaction done, the plan was to spend a couple of hours at the beach along Bodega Bay so the kids could play and maybe get some dinner there before heading for home. As I expected, the water was freezing cold so after a couple of short trips up to our ankles, the kids were put off the idea of swimming entirely. But, the 20 mph winds which gusted to 30 mph made the beach a bit unbearable. They tried to play in the sand but after getting a couple face-fulls of blowing sand, they were ready to get back in the car and head for home. So, our trip to the beach was a bit of a bust but we have other plans to get the kids to the beach before we return.