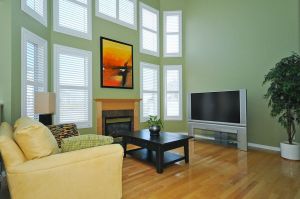 From March 13th to the 21st, we were in Ottawa on a mission to find a house for when we return. Actually, we were supposed to arrive on the 13th but didn't make it to Ottawa until the 14th which is quite a story in itself. But, we were successful and the deal closes in early May. The pictures here are those taken by the professional photographer for the sellers and are taken with a wide angle lens so things look a bit funny in places but it gives you a sense of the house.
Getting to Ottawa was a struggle. Our flight went through Chicago and was supposed to leave around 9:00 AM from San Francisco. Instead, they kept us on the ground in SFO airport because of weather in Chicago. By about 1:00 PM, we were finally on our way. Our connection wasn't delayed according to the American Airlines website but everyone assured us that everything was delayed and there was a fair chance that we would make it.
But, there was a chance we wouldn't. When we arrived, a quick check of the departures showed that the flight to Ottawa left about 30 minutes before. Seeing the staff at O'Hare airport setting up cots for travelers who were stuck spurred us on to finding another solution. We talked to AA and the travel agent to see if we could get a flight to Ottawa, Toronto or Montreal that night. At least we could get close and maybe rent a car and drive to Ottawa from there. It was clear we weren't leaving Chicago that night. AA rebooked us on the early morning flight to Ottawa and got us a discounted room rate at a hotel by the airport.
By this time, it had been a couple of hours since we arrived. The baggage claim for our flight had ended and we had to get in line with baggage services. Eventually, we got to the front of the line, gave them our info and they said to go to a baggage carousel and watch for our bags. Within a couple of minutes, we gathered up all of our bags. Other than the line for baggage services, that went relatively smoothly.
By the time we took the shuttle for the airport and got everyone settled, I didn't put my head down in bed until 12:00 AM. It was daylight savings so really it was 1:00 AM. We were to be up at 4:30 AM so we could shower, pack up the kids and get ready for the early flight from Chicago. In the morning, everyone was tired but that flight was fine and we made it to Ottawa early Sunday.
We had actually placed a conditional offer on a house before we made the trip. It was conditional on us seeing it and liking it and on a successful inspection. Sunday, we visited that house. I was very happy but something didn't sit well with Cynthia. Perhaps she was just exhausted from the long trip over the last 48 hours or maybe it wasn't the right house for us.
On Monday, we went to a half dozen other houses or so. Some in our budget and some outside. A couple of houses were nice but not quite what we were looking for. One was wonderful but much more than we were willing to spend. At the end of the day, we returned to the house we had placed an offer on. We talked about some modifications we could make in the basement and other small changes. Of the houses we saw, this was clearly the one we wanted.
The inspector came the next day and gave the house a clean bill of health. There are a number of small jobs here and there which can keep me occupied and I am sure my dad will be happy to help when they visit. Also, we are replacing the carpets throughout before we move in. We had someone give us an estimate while we were there and that is now arranged. Also, we have a wall we want built in the basement and a bedroom which we want painted. Again, we had a couple of people come in to look at the job and we are awaiting estimates now. The plan is to get this stuff done before we move so the house is ready for us when we arrive.
We have to thank many people. Serena accompanied us quite often when we were looking at homes or had people in to give estimates etc. She watched over Samantha and just gave us moral support. Thanks very much. Matthew tended to spend his days with many of his friends who were on March break. Thanks so much to all of you for allowing him to visit with you while we dealt with everything. Finally, thanks to Louise Roberge, our real estate agent, former neighbour in Dunrobin and friend. She helped us throughout our search for a new home. Thanks Louise.
We did see some friends and family while we were in Ottawa but that wasn't the purpose of the trip so some of that time was limited. But, by this summer, we will be back again so we will see all of you soon.