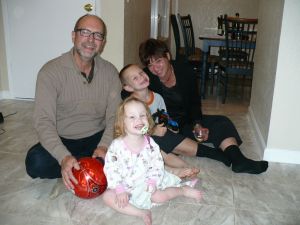 In November, Cynthia's dad and stepmom came to visit for a couple of days. Matthew and Samantha loved having someone new to play with, who would take them to the backyard and run around for a while. They took Matthew shopping for a birthday present while Samantha was napping. We visited Matthew's school and on the way, Matthew showed how he can climb the tree in the back of the field. Check out the picture of Matthew in the tree.
Cynthia and I took advantage of the time they were here to slip out for a lunch together and do some Christmas shopping. We so rarely get a chance like that since we moved. Lunch was Cynthia's favourite sushi restaurant not too far from home and we picked up a couple of things at the mall before Samantha woke up and asked for us.
The visit was too short but we appreciated all the time we had to catch up. Soon enough, we will visit them again in Toronto.