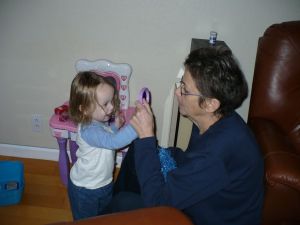 Jumping Jack Grandma came to visit us for a while in December. Apparently, there is snow in Ottawa this time of year. A snow storm was forecast to hit the city when her flight was to leave so with a quick call to the airline and flights rebooked, she arrived one day earlier to enjoy the warmer weather here in California. While here, she helped us to celebrate Hanukah. Matthew was especially excited to light the candles.
While I was at work, they went shopping to pick up some Hanukah gifts for the kids. Matthew and Samantha picked out what they wanted and you can see some of them in the pictures.
While Samantha napped one day, Matthew and his Grandma went to see "Planet 51" at the theatre and had a great time. Matthew still sometimes talks about that movie and wants to see it again. Cynthia also appreciated some mother/daughter time while I took care of the kids one afternoon.
After a few days with us and some other friends in the area, it was time for her to return to the cold of Ottawa. It was a great visit.