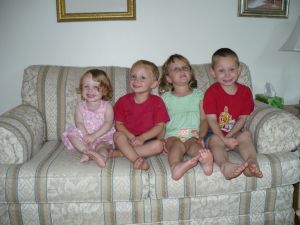 In July, we spent three weeks in Ottawa. Honestly, Cynthia and I debated how long we should spend in Ottawa. I argued for two weeks but Cynthia wasn't sure that we would have enough time to see everyone. In the end, we filled those three weeks and I am sure there are people we didn't get to see and we are sorry we missed you. In the meantime, send us an email and let us know how you are and we will see you again on our next trip.
We spent the first couple of weeks at Cynthia's mom's place. Part of the plan was to be there for Canada Day and we spent the day at Aunt Stefanie's house. The weather kind of cooperated and it would be a bright and sunny day but then suddenly it would pour. Then, it would clear and be great again. The kids spent a bunch of time in the pool and loved seeing their cousins, Mia and Jacob. That night, Matthew and I walked to the Ottawa River so we could watch the fireworks. Along the way, we watched the sky and counted the bats that we saw flying overhead. Matthew hadn't seen a bat before and he was excited to see them that night.
We also spent a day in Montreal and saw much of Cynthia's family at Aunt Jaynee's house. We ended up staying later than planned but time got away from us enjoying spending time with everyone. After some pizza, we decided we had to get the kids back to Ottawa and their beds and said our good-byes.
Zaida Steve and Nannette made the trip from Toronto to visit with us while we were in Ottawa. Samantha wasn't feeling 100% that day and she and I stayed back that morning so she could rest. In the meantime, Matthew spent the entire time in the hotel pool and he was still in there when Samantha and I arrived. We look forward to a visit from them here this fall.
Cynthia also had day visits planned with lots of friends all around the area. We have some pictures from some of those days but other days, including a trip to Prehistoric World in Morrisburg with Fred and Melanie.
In order to not use my entire vacation, I spent about 1.5 weeks working at the Kanata office which was a great way to extend our time there. The final week we were in a hotel in Kanata which was convenient for me getting to work. In the last half of the week, Grandma and Poppa joined us in the hotel for a couple of days. They took Matthew to see Ice Age 3 at the theatre right beside the hotel and after work, I would spend the evening in their room enjoying a drink and chatting.
It was a long time to be away from home but in many ways, it was tough to leave everyone behind and return to California. Thanks everyone for your hospitality while we were there and we look forward to our next visit.