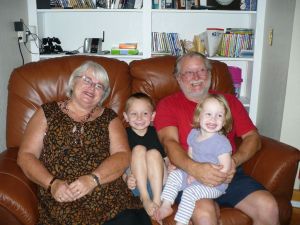 In late September, Grandma and Poppa flew out to California to visit with us. Samantha and Matthew loved having them around and to this day, Samantha may just blurt out "Poppa" at the oddest moments. They stayed in the computer room on the spare bed and I hope it was somewhat comfortable.
They stayed with us for a couple of days and then met some friends from London and spent some time in San Francisco. Then, another couple of days with us before taking a tour of the area with their friends, seeing some incredible parks, small towns and wineries. Having used most of my vacation time with our trip to Ottawa, I ended up working most of the week anyways and Matthew was at school. But, by the weekend, they returned to stay with us before flying back home a couple of days later.
We watched movies, played Rock Band, relaxed outside on the patio and swam in the pool. Somehow, Matthew convinced Grandma to play "War Of The Monsters" with him. That is a video game where you can be King Kong, Godzilla or some other similar monster. I think he enjoys being the one who knows how to play so if you come to visit, expect to be pressured to play a video game with Matthew.
For my birthday, they bought me a wonderful picture of Samantha (see the pictures of Uncle Steve's wedding and you will likely guess which one). And, they got a kite for Matthew. Unfortunately, there wasn't enough wind while they were here to fly it but Matthew ran across the field several times to get it into the air. Since then, we have been back to the school's field and had it flying a couple of times.
It was great to see them and the kids loved having them around. We miss you.