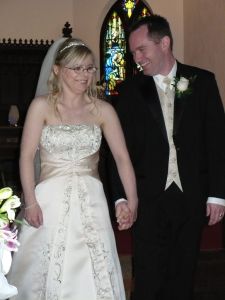 In May, we travelled back to Ontario to be a part of Uncle Steve and Aunt Katherine wedding. What a wonderful day! Matthew carried roses for his two Grandmas and Samantha was the flower girl. Steve and Katherine had a lovely wedding and we were proud to be there and do our part on their big day. While there, it was great to catch up with many different people.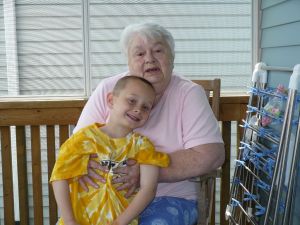 We flew into Toronto a couple of days before the wedding and rented a van to get us to Tillsonburg. There, we stayed with Grandma and Poppa. Grandma Kaye was there also and we had a great time seeing everyone again. We spent time playing soccer in the back yard and taking the kids to the park. Matthew and I also braved downtown Tillsonburg to run some errands and get some haircuts before the big day. Oddly enough, in the time we spent there, we didn't get any pictures of Grandma or Poppa.
After that, we all checked into the Lamplighter in London and the night before there was a party for Steve and Katherine. There, we saw many friends and family we hadn't seen in a long time and it was great to catch up when we weren't chasing Samantha and keeping her out of trouble. The wedding day was wonderful and the pictures of Steve and Katherine speak volumes about how happy they are (if I can find a link to the photographer's photos, I will link to them here). Most of the pictures I am including here are taken by Cynthia, except the black and white photo of Samantha. That picture is just too perfect and I had to post it. I hope Dawn doesn't mind.
During the reception, Matthew and Samantha danced until late into the night. I think the highlight for Samantha was when they played the Chicken Dance. She picked it up right away and to this day, she still loves to do the Chicken Dance.
Thank you Steve and Katherine. It was a great day and we were so happy to be there with you for it.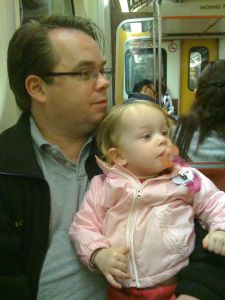 For the last few days, we stayed at Cynthia's dad's place in Toronto. We visited with Scott and Karyn, Cynthia's friend Kay and Cynthia's mom also. While in the big city, we also made day trips to the Royal Ontario Museum and the Ontario Science Centre. I think the kids liked the science centre the most. We actually stayed in an area for younger kids the whole time and didn't really venture beyond that. But, they ran around having a great time and we had to convince them to leave at the end of the day.
We didn't get to the Ottawa area on that trip but we did get to see most of our friends and family in southwestern Ontario. Sorry if we missed you but we will likely be back for a visit next summer.