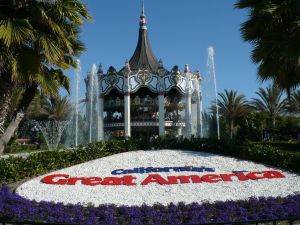 A couple of weeks ago, we decided to take the kids to Great America which is an amusement park similar to Canada's Wonderland. Great America is only a few minutes drive from our house so it is very convenient for us. Matthew had a great time but I was surprise how much fun it was for Samantha. I had expected to carry her from ride to ride as Matthew explored the park. But, we found a bunch of rides which were perfect for Samantha too and she loved it.
We also happened to pick the hottest day so far this year to go. It was well over 30 C and very sunny. If we had planned ahead and dressed to get wet, we would have been more comfortable. There was a great water park area also where we could have cooled off. Next time we will do that differently.
After a few hours of exploring a small part of the park, we were all pretty tired and ready to head for home. But, we got ourselves season's passes so we will be going back soon.