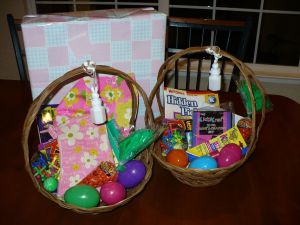 We celebrated our first Easter here last month. The obvious question is what did we do differently this year to celebrate Easter given Samantha's diabetes. We told Matthew that the Easter Bunny knew about Samantha and that he would probably bring less chocolate but might bring something else instead. Sure enough, that morning Matthew found a copy of Lego Batman for his Nintendo DS at his spot at the table and Samantha got a new doll.
The Easter Bunny did bring some chocolate though. Thankfully, Samantha had just gone on the OmniPod insulin pump and that helped us give her doses as required throughout the day. She didn't eat much but it was good to know that we could correct for it as soon as we gave her some.
Eggs were hidden in "plain sight" for Samantha to find and in more difficult to find places for Matthew. It was tough to keep Matthew from quickly gathering up all of the easier ones so that Samantha had some to find, but with some distraction and re-hiding, Samantha joined the fun also. They both enjoyed it and a bit of moderation on the chocolate for all of us is not a bad thing.