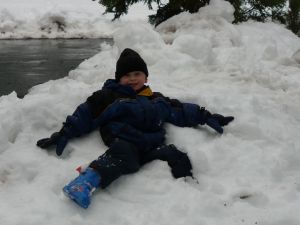 Before the medical issues of the past couple of weeks, we took a family vacation. We went to Twain Harte, CA and stayed in the Aspen Cottage at Gables Cedar Creek Inn. Before the trip, I bought chains for my car because apparently they are required there. I am used to winter driving but winter conditions on mountain roads can probably be much worse.
The trip there was uneventful and the GPS directed us along the way. When it said we were within 10 minutes of arriving, I mentioned to Cynthia that I didn't see any snow and we were worried Matthew would be upset. Part of the reason for this trip was because Matthew missed snow in the winter. But, just before we arrived, we crossed the snow line and suddenly there was a bunch of snow on the ground.

Craig and Tami and their family were there also and we enjoyed many dinners together and playing in the snow. We built snow men, went tobogganing down a hill just a short walk away, and generally had lots of fun.
But, Matthew was very keen to go skiing again. Last year, he went skiing about 7 or 8 times and by the end of the season, he was quite good. So, we drove to Dodge Ridge. We enrolled Matthew in some ski lessons and Cynthia enjoyed some skiing also. I kept a watch on Samantha. Matthew had a great time and it was coming back to him very quickly. But, Cynthia found she couldn't ski with Matthew. He was too small to get onto the chair lift by himself and Cynthia couldn't lift him onto it. Also, Matthew couldn't hold the rope tow.
We did go back a second day so Matthew could get another set of lessons in. By the end, he was doing very well. The instructor said he was able to do the hill on his own but needed someone with him to tell him to turn or he would just tear down the hill in a straight line. We have already talked about trying to go back for a long weekend but if we do, we will probably try to find a place closer to the ski hill. We enjoyed where we were staying, but it would have been more convenient if we could drop Matthew off for a couple of hours of lessons and not be stuck at the hill.
It was a great trip and it did seem to satisfy Matthew's need for snow.