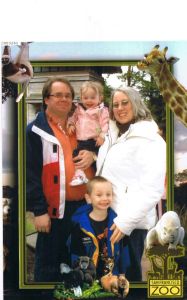 During her visit, Serena wanted to make a trip to the city to see some friends of hers. We decided to drop her off and then spend some time in the city ourselves. We considered making the trip to see Alcatraz but apparently they were booked and we couldn't do the tour that day. Instead, we decided to see the San Francisco Zoo.
A couple weeks before, we went to the Monterey Bay Acquarium and both Matthew and Samantha loved it. Samantha loved watching the fish swimming in the tanks and stared at them. She squealed if one swam right in front of her. Matthew was very interested in the bat rays and the penguins. Unfortunately, we forgot the camera on that trip so we don't have any pictures. We will have to go back there at some point, perhaps with Grandma Heather and Poppa who can probably tell Matthew lots about the fish in the tanks.
Because of his recent love of penguins, that was our first stop at the zoo. Along the way, we saw a peacock wandering around. Samantha liked watching him walk along with us. We found the penguins and watched them for a while. We also saw monkeys, rhinos, lions, giraffe, camels, gorillas and a bunch more animals. Another highlight of the visit were the animal statues that Matthew and Samantha played with. Cynthia took lots of pictures of them climbing on the lion statues.
At the zoo, they took a family picture for us which turned out pretty good. Click on it to see more photos from our visit. Before long, the kids were tired and it was time to pick up Jumping Jack Grandma. And I got a phone call that my car was ready, which is another story.