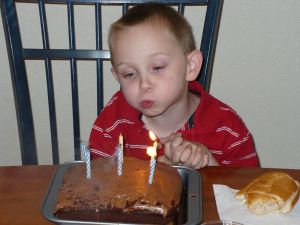 Before we moved, we had a party in Ottawa to celebrate Matthew's 6th birthday about two months early so he could have a party with his friends. On his actual birthday this past December, we had a quite celebration at home. We picked up some dinner at Subway which Matthew loves and brought it home to eat. After that, he blew out the candles on a cake I baked the night before.
Then, he opened his gifts. Cynthia and I gave him a Nintendo DS. Uncle Steve and Aunt Katherine sent a Lego Indiana Jones game and he and I are still playing it almost every night. Another highlight of his birthday gifts was a space shuttle toy which Zaida Steve and Granny Nanny sent for him. In a later story, you will see Matthew holding it when we go out to find a Christmas tree. It was one of his favourites. Thanks everyone for the gifts you sent to him.
Overall, it was a pretty quiet birthday for Matthew but I doubt next years will be the same. He is making friends quickly here and I am sure we will have a house full of kids again (or maybe we won't and go somewhere for the party).