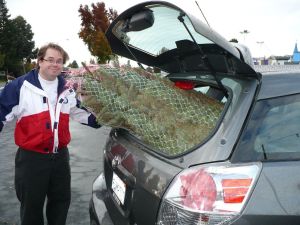 We always leave Christmas preparations until after Matthew's birthday so the two don't compete with each other. So, that weekend after his birthday, we went to find a Christmas tree. Just a few minutes away from our house is a small nursery which had a lot of trees for sale. So, we drove there to see what we could find. You can see some pictures of us browsing through the trees.
Also, not long before, we had bought our first vehicle and returned our rental. We bought a 2007 Toyota Matrix which will primarily be Cynthia's car. But, at that moment, we wished we still had the rental so we could make a mess of someone else's car. I did get the tree we chose into the hatch of the car and it was surprising how little of it stuck out through the glass. Thankfully it was a short and uneventful trip home.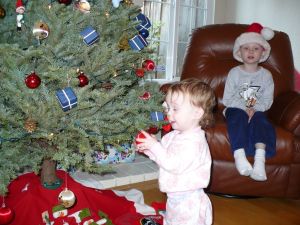 A few days later, I setup the tree stand and brought the tree into the house while Samantha had her afternoon nap. Cynthia, Matthew and I worked on decorating the tree. Next year, Samantha should be old enough to help out. I lifted Matthew up to put the star on the top and he and I strung the lights. Then, we all placed the ornaments, putting the breakable things up high beyond Samantha's reach.
The other task to be ready for Christmas is to visit Santa Claus. In Ottawa, we always attended the Alcatel Christmas Party and saw Santa there. Here, we ended up waiting until the last weekend before Christmas and decided that would be a good time to head to the mall and see Santa. That was a bit of a crazy idea. Actually, the line for Santa wasn't too bad when we got there and it moved along OK. Matthew dropped his letter to Santa into the mailbox. Then, he and Samantha sat on Santa's lap for a picture. Samantha wasn't too scared and we got a pretty good shot. Matthew told Santa what he wanted and what Samantha wanted and we rushed back to the car to get away from the crowds.
We were ready for Christmas. Jumping jack Grandma would be arriving for her visit soon and if we all were good, perhaps Santa would visit also.