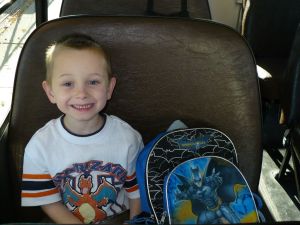 One of the major complications of the move was getting Matthew enrolled in school. He had his last day of grade one at Stonecrest Elementary on October 31st. While the movers loaded the truck, Matthew was at school saying goodbye to his friends. They had made a huge goodbye card for him and he was so excited to show it to us when he got off the bus.
There were a bunch of complications enrolling Matthew in school in California. The cut-off dates for the grades are different between Ontario and California. In Ontario, Matthew is just about the youngest student in grade one. In California, he had to be enrolled in kindergarten, where he would be one of the oldest students. According to California law, he had to do at least 30 school days in kindergarten and if his teacher thought he was ready, he could then be placed into grade one again.
The other problem was that the school right next to our house had no room in kindergarten. There was room in grade one but he couldn't be enrolled in grade one. So, he started kindergarten at another school about 10 minutes away on Friday, November 14th. I had to drop him off and pick up him at the end of the day for the first three school days until they could arrange a bus. Now, Cynthia and Samantha walk with him to the local school where the bus picks him up. They meet him there again at the end of the day.
The other issue is that the school he is attending now is very competitive and advanced. In the kindergarten class, most of the students are reading and doing addition and subtraction. Matthew is reading pretty well but his addition and subtraction wasn't as good. But, he was meeting expectations for grade one in Ontario. At this new school, most of the students have been in private pre-schools and are still getting private tutoring. So, it seems he will not be progressing to grade one based on these expectations. But, it shouldn't really matter since the material isn't that different. He doesn't seem to care that he is in kindergarten again so that isn't a big problem.
We are hopeful though that he will be placed at the local school, perhaps after the Christmas holidays. It would be great for him to meet other kids from the neighbourhood and making friends with here. The sooner he moves to this school the better. We really don't want him to make a bunch of close friends and then find he is changing schools again and losing contact with more friends. We are told that spaces often open up after the holidays so hopefully that will happen for him.
We do have a funny story about his first day of school though. He came home that night and explained to me that the letter zed was in fact zee and that his teacher corrected him today. In Canada, I don't think we really care whether you say zee or zed but apparently here it is zee. So, should I teach him "colour" and "neighbour" or will that be stirring up trouble? It will be up to me to teach him a measurement system which makes some sense (how many rods to a hogshead of gas does my car get again). And if we are here long enough, I will have to expose him to some of the history and geography of the world outside of the US borders. But he has already begun a conversion into an American now that it is zee and not zed.